Overview
Outcome: Increase of 641% in organic traffic
Hunter Coast Painting engaged Firewire Digital to assist them with their website and SEO. In a 6 month period (September 2020 – February 2021), we were able to increase the organic traffic to Hunter Coast Painting by 641%.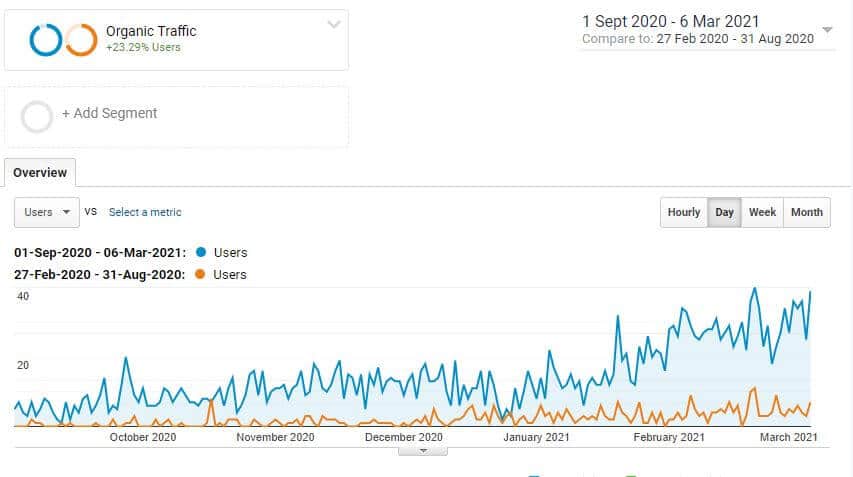 The Hunter Coast Painting team are experienced and professional painters working in the Newcastle region. Their team will work with you every step of the way to ensure your painting and decorating needs are met, on time and on budget.
Like many small businesses, Hunter Coast Painting had tried to set up their own website on SquareSpace, but the website wasn't generating any business. Instead, Hunter Coast Painting approached Firewire Digital with the goal to build a new WordPress website and committed to an SEO strategy to get their digital presence noticed.
Before we could action anything, it was important that the Firewire Digital team worked with Hunter Coast Painting during the planning phase. Relaunching a business online requires extensive planning to execute each phase on time and on budget.
Phases included the newly optimised website design, research on keywords and competitors for content optimisation, and an ongoing SEO content strategy. 
The website design focused on creating an optimal user experience and conversion optimisation. Having a technically sound, fast-loading website is critical to improving search engine rankings and providing a seamless website experience for potential clients. But design also needs to be supported by content, which brings us to the next phase: keyword research and competitor research.
The keyword research and competitor research phase of planning is critical, as targeting the right keywords on the website improves initial rankings and provides the greatest ROI. The research we do into keyword phrases and competitors provides the foundations for a data-driven content strategy.
The content strategy focused on keyword optimisation, content development and content optimisation using SurferSEO, as well as securing local citations and link building to improve Hunter Coast Paintings brand awareness and backlink profile.
The new Hunter Coast Painting website launched in January 2020, with traffic really gaining traction in July 2020. The 6 month period from September 2020 – February 2021, compared to the previous 6 months, was a massive growth period for HCP, with organic traffic increasing by 641%! This was reflected in the conversions as well, with Phone Clicks increasing by 600% in that period, Email Clicks increasing by 100% and Contact Form completions increasing by 27%.

We've helped businesses across Australia grow using digital marketing. But don't take our word for it. We'll let the numbers do the talking.
258% Growth in Organic Solar Power Leads
Over a 6 month period HCB Solar have overhauled their SEO game and achieved an increase in organic leads of 258%.
Targeting Australia & United States via Google Search Ads, Modelers Central campaign achieved an average ROAS 12:1.
We've helped hundreds of businesses increase revenue through their websites – we can do the same for you.