Local SEO: The Complete 2022 Guide To Improve Rankings
6 Steps to Improve your Local SEO in 2022. In this Complete Guide To Local SEO, We Share How To Improve Your Search Engine Rankings For Your Local Customers.
For many local businesses, marketing is the primary goal. Search engine optimisation (SEO) just becomes a folder under the big marketing umbrella, with little thought or resources ever dedicated to it. Though this situation repeats itself in business across Australia, it shouldn't be the case. SEO needs to have a dedicated team and budget because when it comes to bringing in organic traffic and improving the digital experience for your customers, there is no better method. 
Standard SEO, however, is not very useful when you have a physical store or a service area business. You want your local customers to come in and visit or contact you. You don't want to waste your money or your effort to get website visitors from people who live in another country or another state.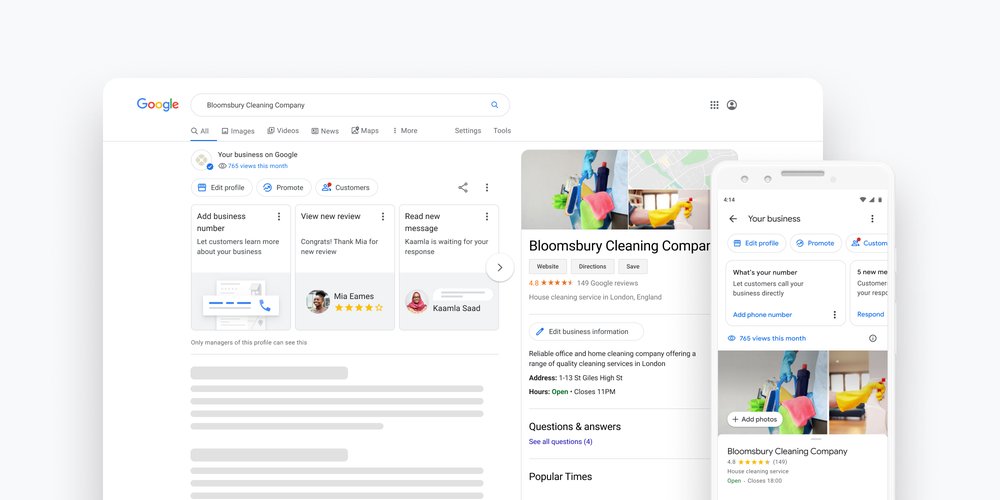 That is where local SEO comes in, and the best part is that it is by far the most targeted and effective way of using search engines to boost traffic and sales for your local business. Local SEO is one of the best tools local businesses have in their arsenal. Every service area or brick and mortar store can grow their business and attract more customers with local SEO.
In this complete local SEO guide we go through everything there is to know on local SEO and how you can improve your online visibility.
What is Local SEO? 
Local SEO (local search engine optimisation) is a type of SEO that focuses on optimising a websites online presence to attract more potential customers from local searches. Search engines look for signals such as local content, links, profile listings, and social media pages to gather information for local search results. With Google accounting for a 94.7% market share of search engine searches in Australia, most people are using Google to search for local businesses.
Local searches are searches combined with a location attached, such as:
Bathroom Renovations Newcastle
Blinds Newcastle
Cafe near me
Doctor near me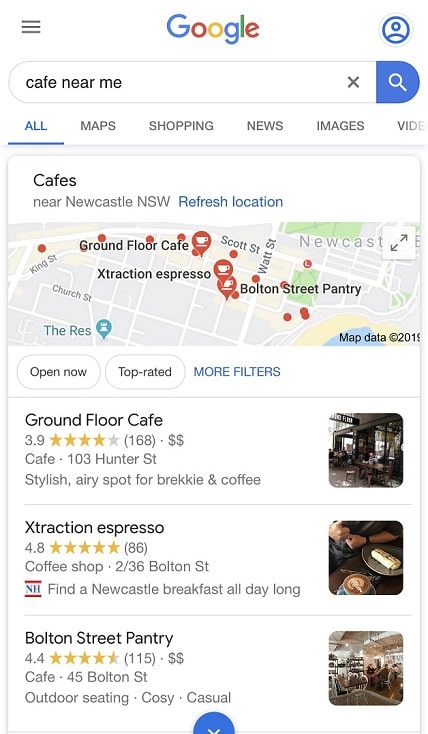 Local SEO helps businesses promote their products and services to local customers who are actively searching.  Unlike SEO, local SEO has a geographical component for example 'plumber Sydney'. It is a process of building those signals and relevance around a specific geographic. Whether you are for a brick-and-mortar business or a service area business your business can benefit from a good local SEO strategy.
How Does Local SEO Differ from SEO? 
The key difference between SEO and local SEO is that local SEO is targeted to a specific geographical location. The aim of local SEO is to get your products and services in front of potential customers within your geographic area. Local SEO uses the same tactics as a normal search engine optimisation strategy – quality content and link building, but with a specific focus on your region.
Think of your own search patterns – do you add a city or town name to your search, e.g. 'curtains Newcastle'. By targeting the relevant region for your business, local SEO can assist Google and other search engines to associate your business with that geographic region.
So do you need SEO or local SEO? Typically Local SEO is best for businesses that service specific regions or have a physical location. Think of plumbers, painters, builders, local shops – these local businesses all want to appear in localised google search results.
What are the Benefits of Local SEO? 
With 97 per cent of consumers looking online to find local business information, the importance of local SEO can not be overemphasised. Furthermore, 50 per cent of people who did a local search on mobile went to a physical store within one day. With 18% of local mobile searches leading to a sale within one day!
Local searches are becoming increasingly prominent with 46% of all searches on Google having a local intent. In the past 2 years alone there has been a 900% growth in 'near me' searches. Google knows that when a consumer is searching for a local business or service they tend to state the name of a city, town or postcode. For example, rather than searching "blinds", you instead search "blinds Newcastle". With this slight modification you go from telling Google you want to know about blinds in general to you want blinds stores in Newcastle.
The driving force behind this increase in local searches is the increase in mobile usage, with 89 per cent of Australians now using a smartphone. This is up from 88 per cent in 2017 and 84 per cent in 2016. Consumers are using their mobiles to search for products and services when they want them. In fact, 78 per cent of local searches on mobile ended with a purchase being made offline.
All these add up to one thing, local SEO can play an important part in your digital marketing strategy. If you want to dominate your local geographic region, you need to implement a comprehensive local SEO strategy to ensure potential customers can find you when they are searching for your products or services.
But before we get to implementing your local SEO strategy, let's take a look at the Local Pack.
What is Google's Local Pack?
In your searches of Google, we are sure you have seen one of the biggest elements of local SEO, Google's local pack. The Google Local Pack is the boxed area that appears at the top section on the first page of results when a local search is made through Google's search engine. The local pack displays the top 3 local business listings most relevant to the search query.
Below is the local pack that results from a search of 'bathroom renovations Sydney'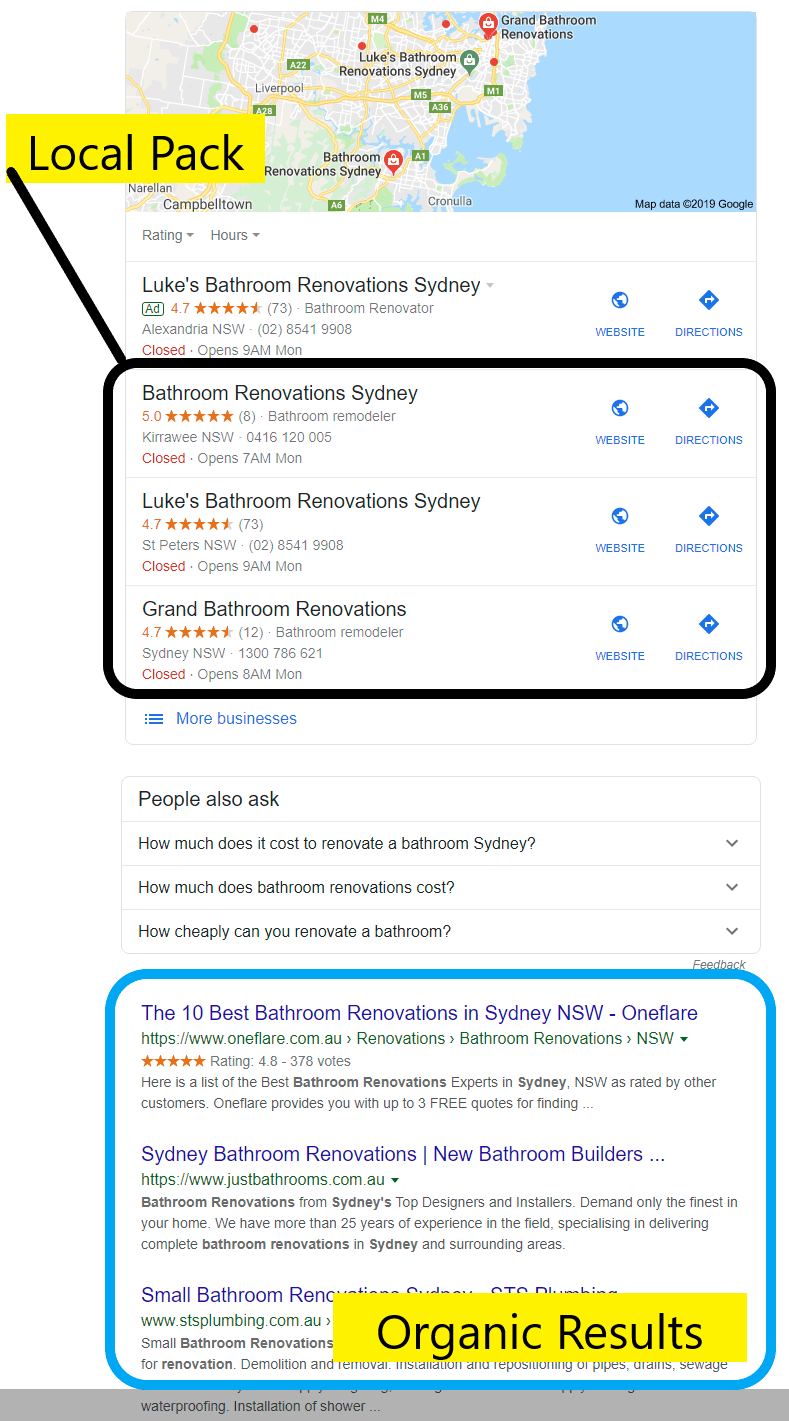 These results can be incredibly helpful to the user as they can find relevant and highly rated businesses near them and see opening hours, phone number, reviews and location. According to one study, 33% of clicks go to the local pack results, with 40% going to the regular organic results.
Everything that is shown within the local pack results comes from the Google My Business profile of the business. More on this later.
Before You Get Started on Local SEO
There is no point in investing time and resources into any SEO if you don't have the basics sorted.  Start with a quick assessment of your website.
Is your website mobile friendly? Last year Google shifted to mobile-first indexing, meaning it indexes your mobile site, and not the desktop version.
You can use Google's Mobile-Friendly Test tool to check your website. With 61% of mobile searchers are more likely to contact a local business if they have a mobile-friendly site, you don't want to fall down at the first hurdle.
You also need to ensure your website is not so outdated that it hurts your eyes to look at.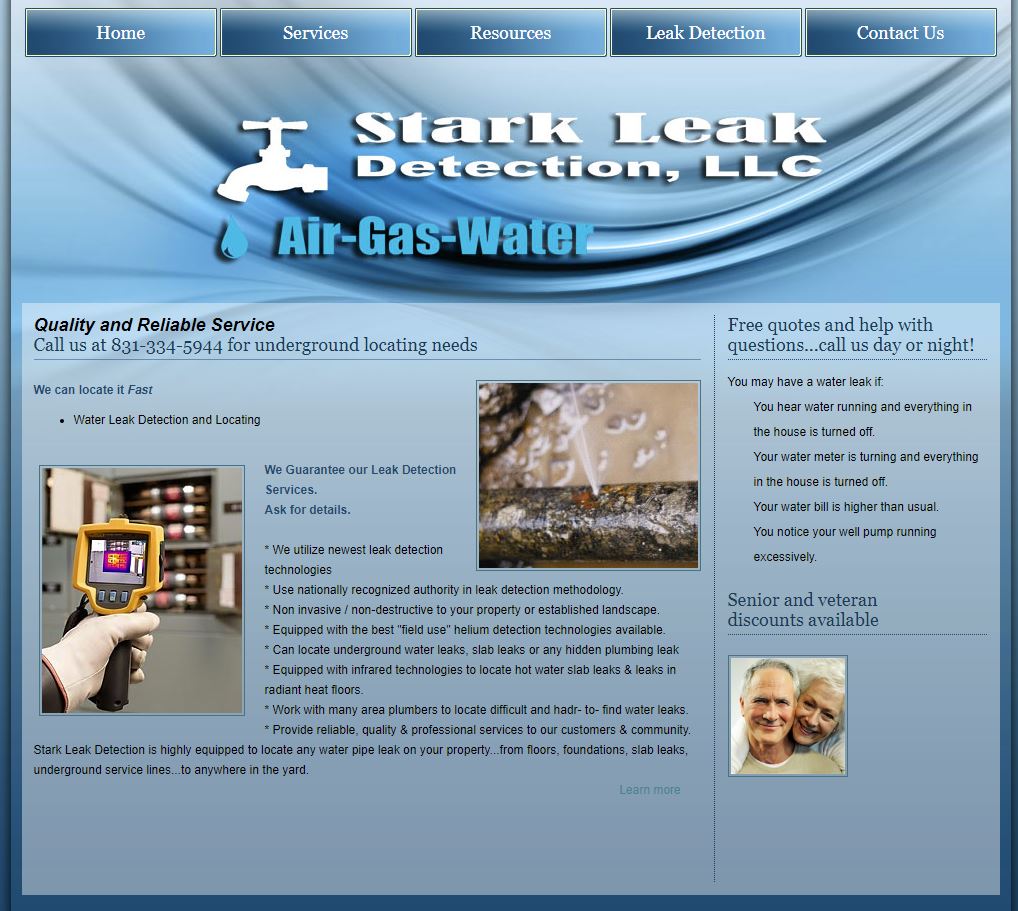 If your website looks like this, it won't matter if you rank #1 for every term you want, no one is going to contact you when your website is older than they are.
We would also recommend against using Google My Business free website builder. Though Google says:
"We'll help you create a beautiful website to impress and engage new customers – and establish your business online", it is definitely not designed to optimise for SEO.
In a review of the service in 2017, Search Engine Land found that there are quite a few negatives from an SEO perspective. Including:
One-page site, no option to create additional pages.
No ability to add custom page titles and meta descriptions.
No Google Analytics integration.
Lacks the ability to add Local Business Schema (more on this later).
Cannot add alternate text to images.
Cannot add additional call-to-action buttons. (Source)
In addition to these issues, despite being developed and hosted by Google they also fall down on a page speed test.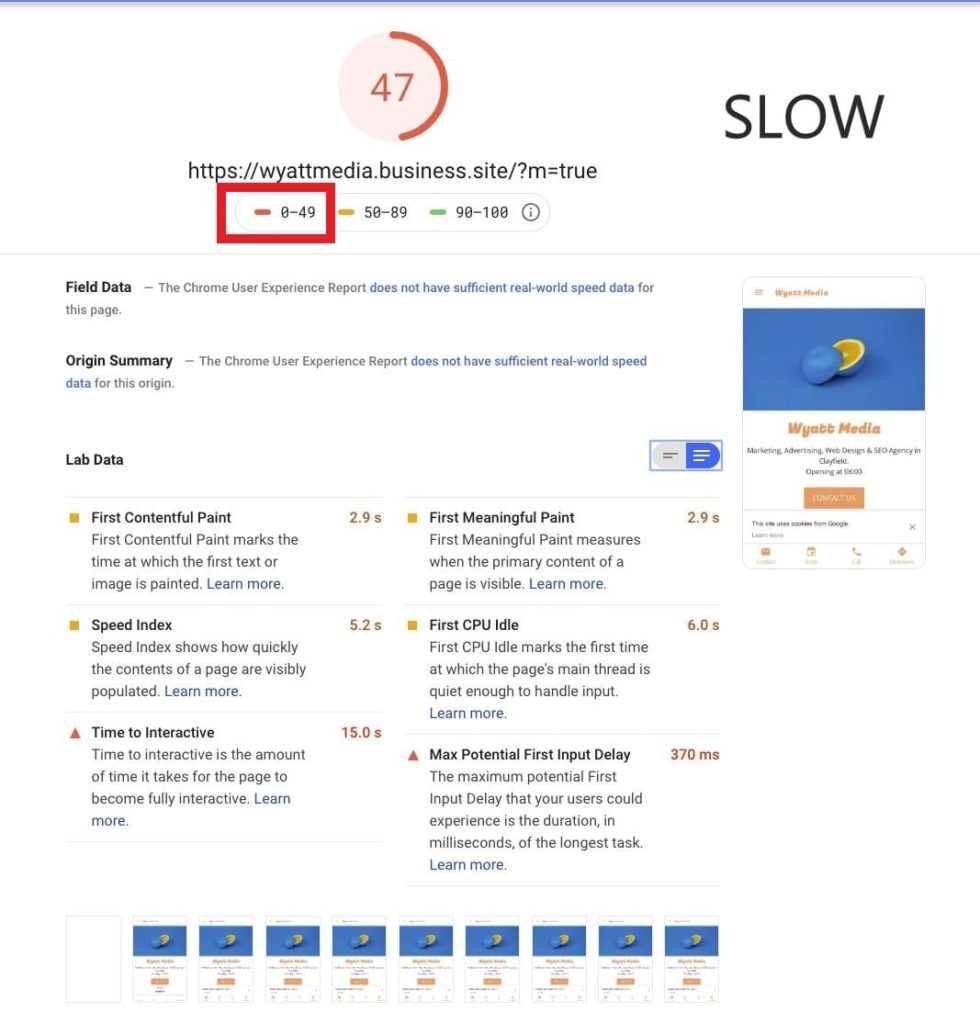 The key problem here is there is no way you, the business owner can address any of these speed issues. Your ability to control and improve your website is greatly limited.
If you are interested in undertaking more advanced local SEO strategies, testing your website speed is a great place to start. These three resources provide a great insight into area's you can improve the speed performance of your website:
Happy with your website? Now you can get started with local SEO!
Start Building Your Local SEO Strategy 
Once you have a great website that serves your potential customers, you will then want people to visit the site. Work through each of the following areas to build your local SEO strategy.
1. Google Business Profile
Google Business Profile (formally Google My Business – GMB) is your first step to improving your local SEO.
Google Business Profile is a free and easy-to-use tool for businesses and organisations to manage their online presence across Google, including Search and Maps.
According to Moz, a Google Business Profile is one of the top local ranking factors for both local pack and organic results. This is hardly surprising when 46% of all Google searches are local. Yet amazingly 56% of local retailers haven't even claimed their Google Business Profile listing.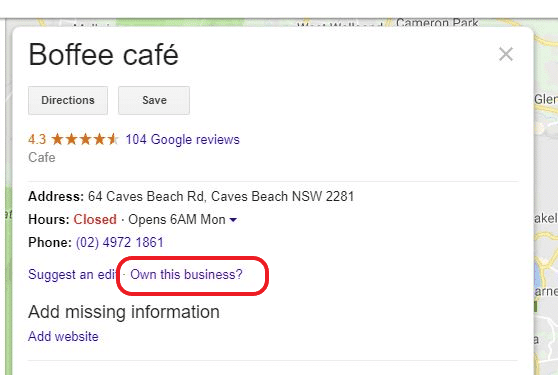 As of February 2022, you will now need to create, claim and edit your Google Business Profile directly on Google rather than the soon to be defunct Google My Business page or Google My Business app. A short instructional video on how to claim your Google Business Profile is provided by Google:
You will most likely be familiar with the outcome of a Google Business Profile listing – a branded Knowledge Panel:

Your Google Business Profile displays information that you submit, including business details, contact details, services you offer and opening times. Yet there are also features that you don't control such as Q&As and Google Reviews.
Once you have created your Google Business Profile, don't set and forget it. You must make sure to keep it up to date and as accurate as possible. Correct and fresh information is much more likely to provide a positive experience for your potential customers. As an added bonus, the Insights section of GMB provides data for you on your profile's performance. According to Databox, GBP Insights "provides data on how customers find your site" and "is a favorite component of GBP for many of our experts", so keep checking those metrics to drive decisions about how you use this platform.
WORD OF WARNING! – Don't go and create multiple Google Business Profile listings for an address that your business does not operate from. It won't help you rank.
Google states "Listings on Google Business Profiles can only be created for businesses that either have a physical location that customers can visit, or that travel to visit customers where they are."
2. Local Citations
A citation is an online mention of your business. This generally includes displaying your business name, address, phone number (NAP). Typically this sort of information is provided in an online directory or business listing, Google Business Profiles are just one example.
Citations are particularly important in local SEO, as they help search engines verify that your business exists. When your business is mentioned from credible sources with accurate and consistent information, it signals to search engines your business is legitimate.
Getting a citation on credible national business sites or local business directories helps improve your businesses ability to rank in local search results.
According to Bright Local, 68% of consumers say they would stop using a local business if they found incorrect information in local directories.
NOTE: You might come across people referring to NAPW (Name, Address, Phone Number, Website) or NAPU (Name, Address, Phone Number, URL) citations. Receiving the website link from a credible website can offer additional value as it provides the extra information to search engines validating your business.
Citations can be divided into two types, structured and unstructured.
Structured Citations
A structured citation is your business information (NAP) typically appearing in a business listing. Any business listing directory where you can submit your business details and get a citation are structured citations. Example of sites in Australia for structured citations include:
Yellow Pages
Sensis
Local Search
Facebook
SuperPages
HiPages
OneFlare
Here's an example of a structured citation for a plumber in Wollongong on Local Search: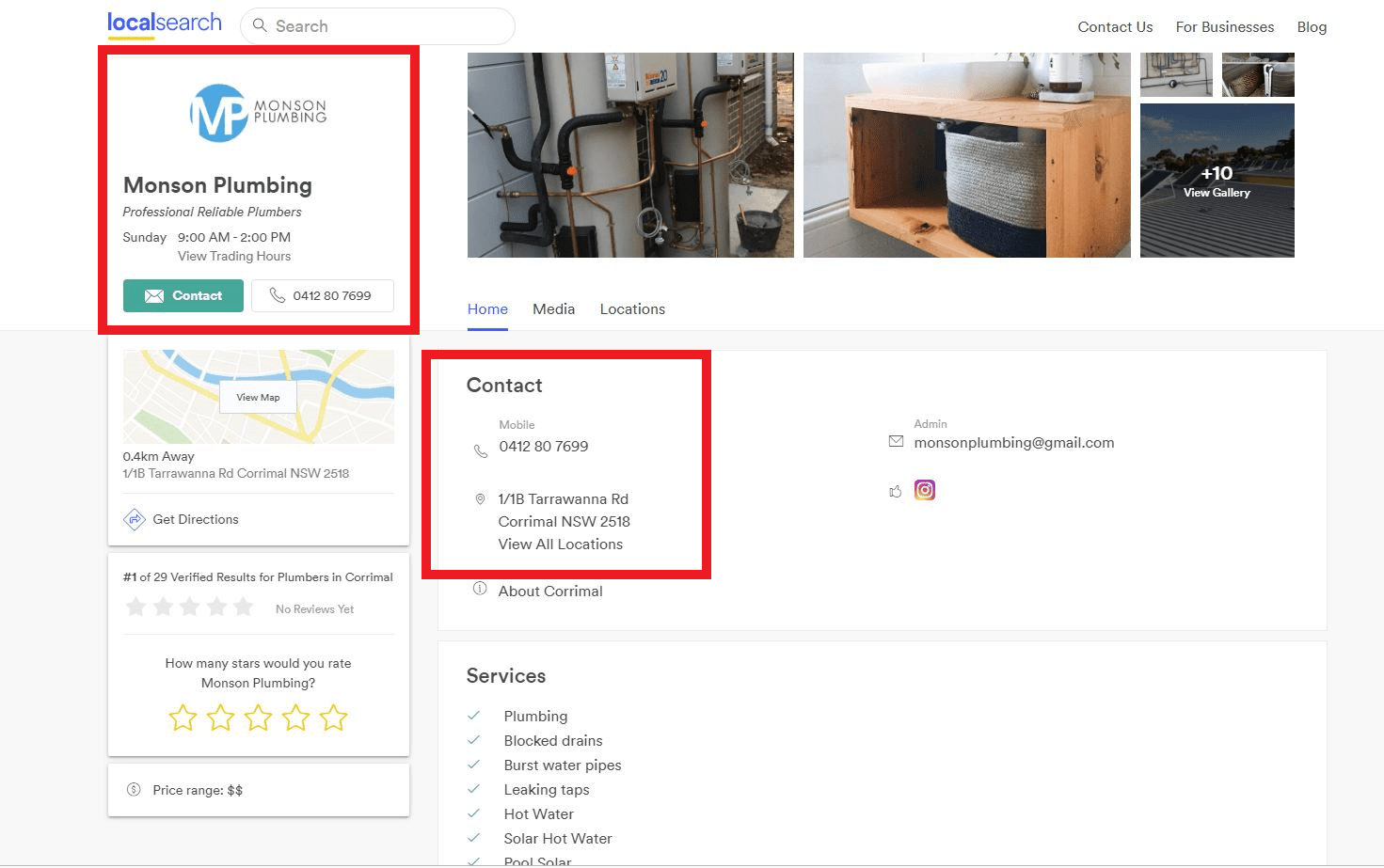 Unstructured Citations
An unstructured citation is more likely to be the result of press, social media and blogs. Any citation where your NAP is shown but is not displayed in a structured format.
Here's an unstructured citation example for new Sydney restaurant XOPP on goodfood.com.au: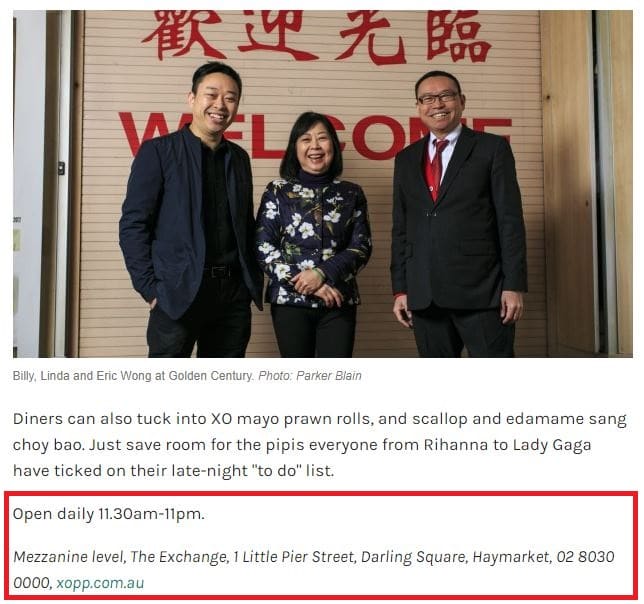 Building local citations is key to your local SEO strategy. However, if your business has been around for many years, there is a risk of incorrect information being listed across your citations without you even knowing. If your citations are not regularly updated and cleaned up it can negatively impact your local SEO.
Whitespark has a good list of the 30 best local citations in Australia to help get you going.
3. Online Reviews
Customer reviews have a greater impact on acquiring new customers than many businesses realise. In a 2019 local search study from Seer Interactive, they found:
Ratings and reviews can be the difference-maker when it comes to breaking into the local pack.
Businesses that do not respond to reviews tend to rank lower
These findings are not surprising when Google recommends businesses should:
"interact with customers by responding to reviews that they leave about your business. Responding to reviews shows that you value your customers and the feedback that they leave about your business."
And Google again:
"high-quality, positive reviews from your customers will improve your business's visibility and increase the likelihood that a potential customer will visit your location."
You shouldn't just chase ratings and reviews for the sake of the algorithm though. Reviews matter beyond straight optimisation.  Research shows that ratings and reviews are vitally important to how consumers make decisions:
Responding to reviews
We have established that Google likes you to respond to customer reviews on your Google my business profile. This should go without saying, but you must respond to both positive and negative reviews. It is important to show both your customers and search engines you engage regardless of the nature of the feedback.
Reviews should not be seen as a one-way flow of information. Businesses need to realise that it is an opportunity to further engage with customers. Remember, online reviews and review sites are public, so keep this in mind when you respond to any review. Good reviews are wonderful and you can maximise the benefit; on the other hand, you can minimise the damage of a bad review. Having a strong online reputation is a cornerstone for local SEO.
How to Respond to Positive Reviews
Thank the customer – Show gratitude for using your business and taking the time to write a review.
"Thank you greatly for your kind review Karin, Your feedback is greatly appreciated"
Be specific – Don't make it feel like a canned generic response if the person mentions something specific in the review highlight it.  This adds a more personal touch that customers will appreciate.
"I will pass on your kind words to our fitter Matt".
Keep them coming back – Don't let the customer think, you don't want them anymore. Always ensure you let me know you are there to help. Give them a reason to come back.
"If we can be of any further assistance please don't hesitate to contact our team"
Positive review response example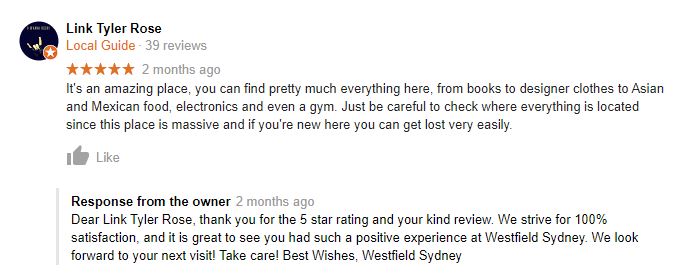 Negative Reviews
Unfortunately, you can't ignore negative reviews. In fact, ignoring it just makes it appear worse. The best thing you can upon receiving a bad review is to react quickly. Remember you are not necessarily replying for the benefit of the reviewer. Your response can be seen by other potential customers and should be written with this in mind.
How to Respond to Negative Reviews
Acknowledge and apologize – First up, acknowledge the customers concerns. Even if you disagree, apologize for the unsatisfactory experience and thank them for giving honest feedback.
"I'm sorry to hear about your bad experience."
Add a touch of marketing – For anyone else looking at the review set out what customers usually experience
"We're normally known for our exceptional customer service, and we regret that we failed to live up to those standards on this occasion."
Move the conversation offline –  Remember the conversion is public. Don't attempt to argue with an unhappy customer, nobody wins that battle. Instead, attempt to move the conversion offline by providing contact information for someone t the business they can discuss the problem with.
"Thank you for letting us know about your experience. We apologise that we didn't meet your expectations. Please contact us at [phone] and we will see if we can address your concerns".
Negative review response example
This is a beneficial response to a negative review: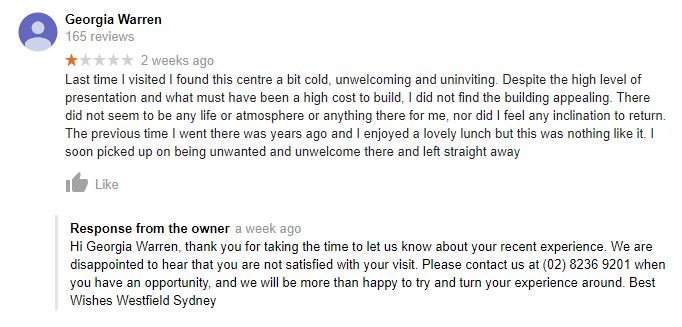 Please don't do this: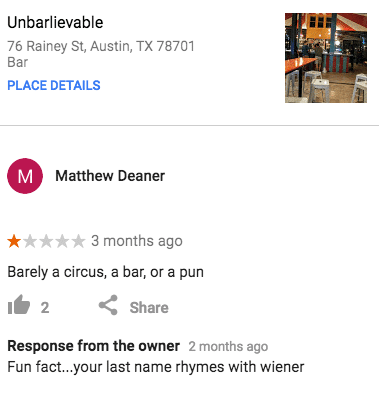 There are many wonderful resources on how best to get reviews that we recommend you look into.
Further resources for reviews:
4. Local Keyword Research
Have you taken the time to consider what you actually want your business to rank for? If you are offering dog wash service, you don't really want to be wasting time on trying to rank as the local butcher.
Continuing with your hypothetical dog wash business. People trying to find your services will probably add a location to their search Google, something like:
dog wash Newcastle
Newcastle dog wash
dog wash in Newcastle
Local keyword research isn't that complicated. Start with the obvious ones for your business. Make a list of all the services you provide and the locations you do so in.
Now you have some ideas of what you rank for, let's bring out the big guns! Head over to Google and use the autocomplete feature to generate even more search suggestions.
Here is the search for "dog wash newcastle."
We didn't have 'diy dog wash newcastle' or 'mobile dog grooming' in our initial list – do you offer these services in your hypothetical dog wash business?
Once you determine a list of keywords, you can get an idea if they are trending up or down by entering them into Google Trends.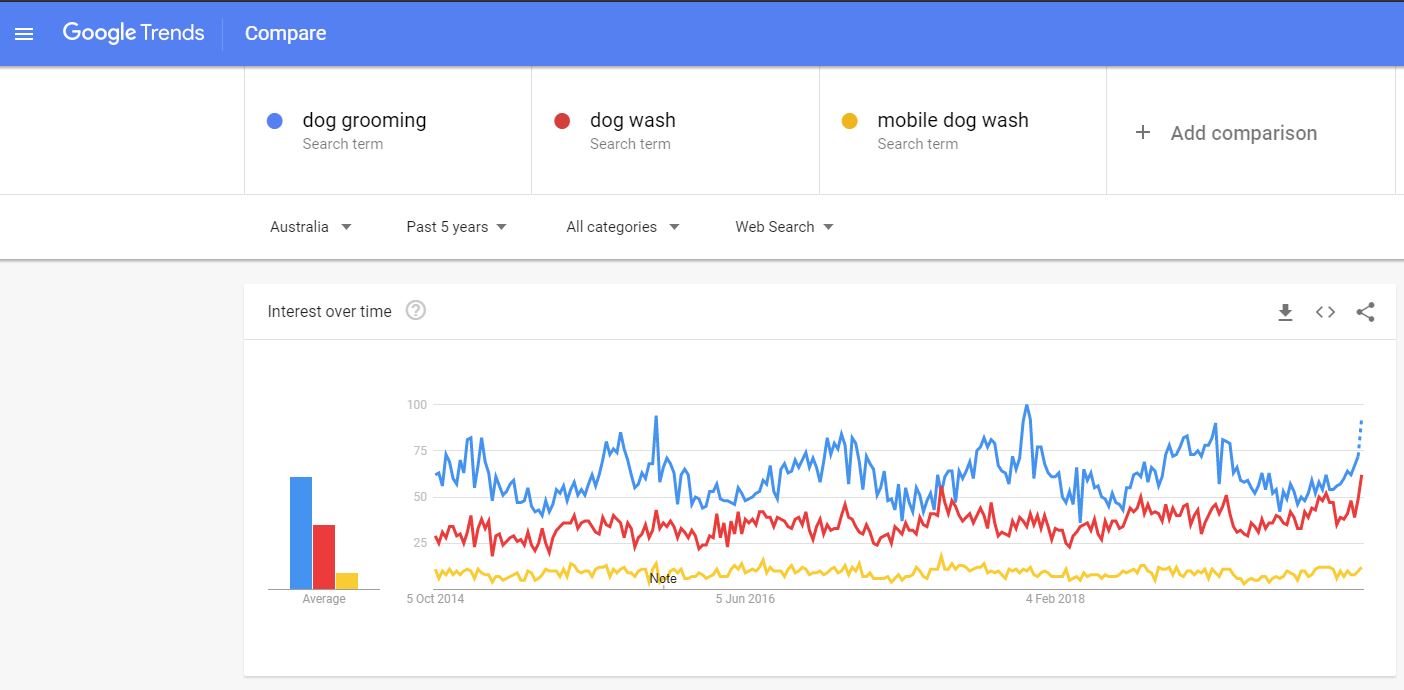 Repeat this process for any other location/services you offer and you start to build quite a comprehensive list of potential local keywords to target.
If you are after super keen to learn more about keyword research we can recommend the following resources.
Further resources on keyword research
5. On-page SEO
Many things within on-page SEO fall under normal SEO practices. Things like keywords, title tags, meta description, internal linking, page speed… the list goes on. For more information check out the on-page SEO resources further on.
There are a few things that are slightly different when it comes to on-page SEO within a local SEO strategy.
Lets start with how to structure your landing pages to help local rankings.
Local Landing Pages
Local landing pages are pages you create on your website to show your business services multiple specific geographic regions. These types of pages are most appropriate for:
Service area businesses – For example, a Sydney plumber despite being physically located in the CBD can also service North Sydney, South Sydney and Western Sydney. They have a need for local landing pages to display the fact they service multiple areas around the city.
Multi-location brick-and-mortar businesses – For example, Harris Farm currently has 27 physical locations across Australia. They need to tell customers and Google where they are physically located with local landing pages. Here there is a goal of also ranking the individual physical location in the local pack.
Here is Harris Farm's landing page for their Bondi Beach store: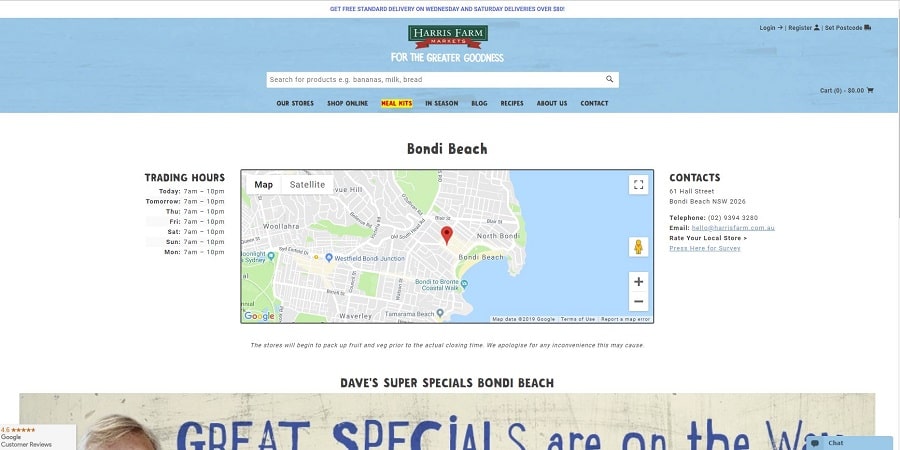 Before we go into what type of content should be included on location-based landing pages, let's make sure you get the URL structure sorted.
Local Landing Page URL Structure
Your website structure can play an important part in determining if the page will rank for the keywords targeted. When building multiple location-based landing pages a simple URL structure is recommended.
yoursydneybusiness.com.au/sydney-cbd
yoursydneybusiness.com.au/parramatta
yoursydneybusiness.com.au/blacktown
yoursydneybusiness.com.au/penrith
Keep the URL structure clean and simple. It doesn't need to be overcomplicated.
Local Landing Pages – What Not To Do!
Now before you go off and create hundreds of spammy local landing pages, there a few things you should learn about what not to do! According to Moz, these common pitfalls harm rather than help your chances of ranking.
Fake addresses – just don't
You are not the smartest person in the world to think listing a bunch of fake addresses on local landing pages will help you rank. Just like in GMB, attempting to appear more local with fake addresses is against Google guidelines.
Don't keyword stuff
Google's Webmaster guidelines specifically state that they do not want pages with blocks of city names, postcodes and keywords.
Examples of keyword stuffing include:
Lists of phone numbers without substantial added value
Blocks of text listing cities and states a webpage is trying to rank for
Repeating the same words or phrases so often that it sounds unnatural, for example:
We sell custom cigar humidors. Our custom cigar humidors are handmade. If you're thinking of buying a custom cigar humidor, please contact our custom cigar humidor specialists at 

[email protected]

.
Don't go overboard on the number of landing pages
It should be obvious by now but Google does not like spammy content. So unless you have a physical location in each location, there is zero need to create hundreds of pages targeting every suburb and region around your business.  Focus your efforts on creating a handful of landing pages for locations that make sense for your business.
What to include on your local landing page
Now we have sorted what you shouldn't include on your local landing pages – what should you include? As always it comes back to high quality, relevant content. Your goal should always be to help the search engine user solve their problem.
Local NAP – Make sure you include the local store opening hours if it's a brick and mortar business and the local stores' contact details (name, address and phone).
Unique description of services – Take the time to write a unique description of the services you provide and how they are relevant to the location.
Local map of service area – A custom Google map can display your service area for the region or the location of your store.
Client testimonials – Demonstrate that you are already part of the local area with reviews from local clients.
Case Studies – Show examples of how you solve the problem people are searching for. These can either link off to an individual page or included on the local landing page.
With all this in mind, the key thing is to identify what matters to your potential customers and provide the most useful information possible.
For more tips on Local Landing Pages visit Moz
Further Resources for On-page SEO:
6. Link Building
Your website is looking great, you have great content yet no one is finding you. In order to outrank your competitors, you need to be seen as experts in your field. This requires you to establish authority in the eyes of the search engines by earning links from other authoritative websites.
Backlinks can also be known simply as links or external links, are hyperlinks that point from one website to another. Links between websites are how search engines crawl websites and discover new content.  Search engine algorithms use links to determine how relevant a websites page is to a search query from a user.
Google has acknowledged that links between websites are one of the most important ranking factors. Don't think for one second though that all links are created equal. When you get a link from a website that has a high level of authority, that link potentially provides a greater benefit to your rankings.
A handful of relevant links from high authority websites to yours will outweigh dozens of low-quality links. Quality authority websites tend to link out to other authority websites, likewise for low authority or spammy websites. If you go and chase low-quality links beware of what Google can see as manipulative link building tactics, these can result in your website being penalised (you really don't want that to happen).
Some common link building tactics include:
Quality blog content
Develop local resources
Unique research
Guest posting on other websites
Local press
Link building is not an overnight process and requires ongoing development of great content and engagement in your community.
Further resources for link building
Final notes
That is a truckload of information to get you started on local SEO.
Is it worthwhile investing the time into this? 100%. Take these steps and you will be ranking better than the majority of your local competition.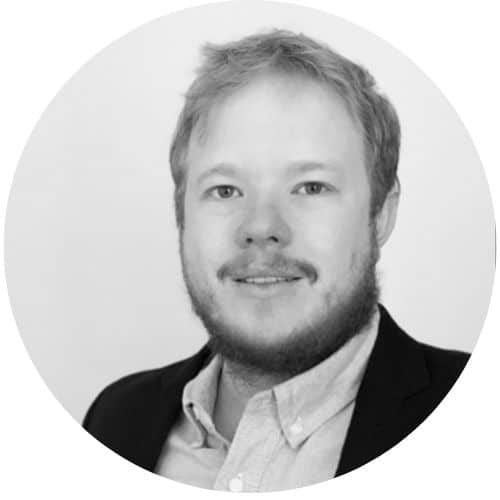 Director and Founder of Firewire Digital. Before Firewire Digital, I spent a decade in e-commerce SEO and Google Ads. I am obsessed with digital marketing and football (soccer).
We've helped hundreds of businesses increase revenue through their websites – we can do the same for you.